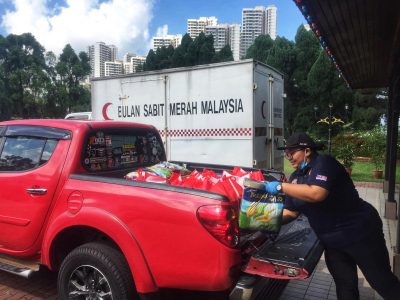 Johor Trucks 4×4 is a registered club that was formed in 2014 to gather owners of four-wheel-drive vehicles across Johor. The club, which has 300 members, not only fosters relationships amongst members but also convenes to provide aid for local and out-of-state communities as well.
With big trucks, comes big responsibilities. Knowing how helpful their vehicles can be to reach places struck by disasters, the Johor Trucks 4×4 members provide assistance and transport food and goods needed all over the country. Their charitable work transcends borders, ethnicities and religions. They help out in flood missions, convoys, and provide donations to schools and shelter homes.
Rosdi bin Senan, the founder of Johor Trucks 4×4, said he loves seeing how members come together to help their local communities and the people of Johor in general. Their collaboration and the members' fast response makes everyone eager and enthusiastic to help the less privileged and vulnerable.
Like any running engine, Johor Trucks 4×4 vehicles experience breakdowns too, especially when they have to drive through dense jungles. At least one mechanic accompanies the convoy in their journey as part of their contingency strategy. They have pulled trucks out using a winch when they faced muddy roads before. It is normal and expected for their trips, and hence they prepare sufficient tools, equipment, and food, especially when the weather is uncertain.
Other than going on missions, they have also helped the Ministry of Youth and Sports with the transportation of the torch from the CIQ to Muzium Tokoh Johor. It was officiated by then-Minister Khairi Jamalludin. One of their fondest achievements is travelling through Taman Negara Anak Endau; considered one of the most extreme routes in Peninsular Malaysia.
The invention of engine vehicles during the time of bicycles and trishaws was to ease transportation and travelling. Johor Trucks 4×4 embodies a vision of vehicles serving their true purpose instead of keeping them in garages for boastful reasons.