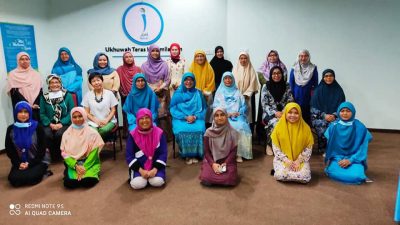 Jemaah Islam Malaysia, established in 1991, was rebranded in 2009 to the now household name Ikram Johor. In all its years of service, Ikram has assisted disaster relief efforts, fire victims, back-to-school activities, social affairs and many more through partnering with different agencies. There are currently 17 Ikram Johor offices, each focused on helping their own local communities.
Members, who pay an annual fee of RM10 or lifetime fee of RM55, are invited to join study circles to learn ways to approach and effectively engage with members of the community. These study circles are facilitated using Ikram's in-house syllabuses. The circles of five to six people, with the support of senior Ikram members, are also given one-off projects to organise and manage.
"We have to think of creative ways to approach the community. People don't usually like to attend talks," said President of Ikram Johor, Associate Professor Dr. Ruslan Abdullah. For example, for the Mat Rempit community, Ikram Johor organised a motorcycling convoy event to raise awareness about conflicts in Palestine. Information about the event was shared solely through social media and it proved to be a success.
Respect begets respect; every human being deserves respect regardless of race, language, or religion. Ikram Johor taps into unique skills, talents, and interests, as they believe that each individual has potential that can be cultivated when given the chance.
Community outreach and engagement are important. Members of Ikram, about 3000 of them, are trained to befriend the community to gain trust and form genuine friendships based on love, care, and understanding.
"In order to live harmoniously, we must understand each other. We are less likely to judge another person once we understand him or her," Dr. Ruslan added, sharing that Ikram Johor promotes inter-faith diversity and inclusion by visiting different houses of worship and attending festive open houses. In turn, everyone is invited to their facility during Islamic celebrations.
Social issues that revolve around women, children and family matters are handled by the Women's Wing. Head of the Women's Wing, Associate Professor Dr. Hjh Siti Zaiton, believes that when a woman is knowledgeable of her legal rights as a woman and a wife, she can take the correct steps in case she suffers from unfavourable instances such as domestic violence. It's important to take care of the wellbeing of mothers as a mother is the backbone of the family; children can gain mental and emotional capacity through observing their life-givers. Dr. Zaiton sees the need to reach out to men to remind them of their roles as husbands and fathers, too. The Women's Wing has also been invited by schools to teach students about self-care and internet safety.
Dr. Zaiton admits to the spirit of "always doing" and doesn't count the awards they have received. She acknowledges IMSHA as a platform for the public to be aware of NGOs and is grateful to have won.
Ikram Johor plans to continue creating more high-impact programmes for the community.
Contact