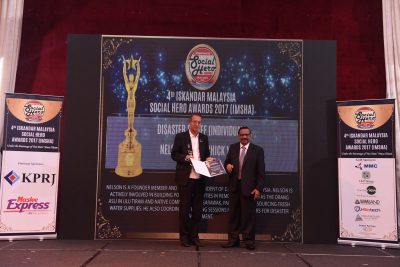 When he was a young boy, Nelson Loong's mother always encouraged him to donate some money to the beggars they saw while visiting the temple. Even though his family wasn't very financially well off, it was perhaps those small actions of compassion, set as an example by his mother, that became the catalyst that activated kindness in Nelson.
In 1997, Nelson fulfilled his yearning to serve humanity by participating actively in social and humanitarian works. In 2012, he became involved in Disaster Relief Works such as shelter, clean water, and sanitation needs in disaster areas. To date, Nelson, who is the former President of the Rotary Club Johor Centennial and Founder/Chairman of Disaster Aid Malaysia, believes in "service above self" where he helps people with all his heart and does not expect anything in return.
Disaster Aid Malaysia works closely with several organisations, one of them being Rise Against Hunger, an international hunger relief organisation. The NGOs distribute ready to eat meals to areas struck by disasters, as well as to orphanages, old folk homes and Orang Asli settlements. The collaboration with Rise Against Hunger has provided more than 60,000 meals to the poor and needy. In some communities in Lombok and Palu, they have installed a water filtration system called 'SkyHydrant' to produce clean water without the use of power or chemicals.
Nelson observes a "Guide To Daily Living", where he spends time introspecting with these questions:
Have I spent some time in self-examination?
Have I spent meaningful time with my family?
Have I given the best in my work?
Have I given some time to others, near and far?
Doing charitable work stems from the sincerity of the heart; one should not seek recognition or validation. Nelson understands this, and to him, as long as somebody benefits from his actions, money, or good words, he is content. His friends often wonder how he juggles between volunteering, family time and working as a Project Director at an Engineering Construction company all at the same time. He works around this by getting his family members involved in his social work. This way, they can support him and do some good, too. They too feel a sense of fulfilment, even though time and finances are sacrificed. As long as it is for a good cause, Nelson is satisfied.
Nelson envisions a world where everyone is united and actions are taken collectively to create sustainable change across the globe.