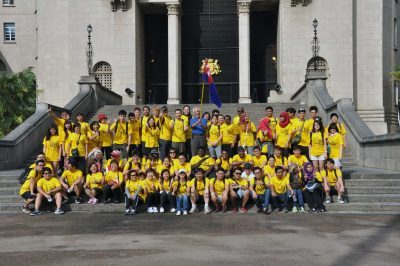 Stressed! was Suzie Yap's default mode, but being stressed also meant she was constantly engaged in giving her best in everything she did. As the Festival Director for the Johor Society for the Performing Arts (JSPA), a non-commercial society registered in 2000, she did juggle quite a bit on her plate.
JSPA was an idea that came to fruition when Suzie once overheard someone describe Johor Bahru as a "cultural desert". Suzie and her husband knew it was somehow true at that time, after all, they would often have to drive four hours up to KL or sit in a two-hour traffic congestion to Singapore to catch a live creative performance. They also sympathised with the young people in JB who were unable to travel out of the city to pursue their creativity and reach out to platforms for self-expression offered by the arts.
Suzie wanted to change this. She and her husband started their efforts by planting seeds of the arts in their own communities first. They organized small gatherings with friends who did play readings, truly Malaysian improv sketches, and other fun activities to unwind in the evenings. Grand Blue Wave Hotel generously offered them space on their 20th floor for weekly gatherings. Gradually, the word of these gatherings got out and people started bringing more friends along – one of their weekly participants these days is a local car tire businessman who is actually a respected tenor! This changed the landscape of the "cultural desert" as, over time, the arts scene blossomed and they embarked on bigger projects in the arts. Today, JSPA is the organizer of the annual Johor Arts Festival, Malaysia's longest-running Arts Festival.
As the Festival Director, Suzie managed all of JSPA's festivals, projects, and events. Juggling a household while running this work is no easy feat, but Suzie found time to wind down in front of the TV. When we spoke to her before her passing, she admitted that the technical terms in the art scene felt like an alien language to her, but this further fueled her belief that hard work is required before the curtains are raised.
"Passion and inspiration are 1%. Perspiration is 99%. Be ready to cry in frustration, be ready to feel like you have no idea of what you're doing, and be ready to face doubters every step of the way," Suzie said.
Suzie heartily enjoyed sharing her experiences with the younger generation – ones that she helped shape the lives of. She told us about an incident at the Malaysian Philharmonic Orchestra at Persada in 2018. Unlike a normal orchestra concert where the atmosphere is often serious and dignified, this orchestra featured anime music and welcomed children of all ages. It brought her team great pleasure when they witnessed children dancing along to the music and imitating the conductor; one cannot put a price on happy, dancing children. These children might not understand the music, but what mattered was they were enjoying themselves.
It was Suzie's dream to start an Arts Education Fund or an Arts Resource Centre for the underprivileged. Unfortunately, Suzie is no longer with us today, but her legacy continues and the arts community in Johor Bahru is grateful for her contributions and will strive to let the music play on.