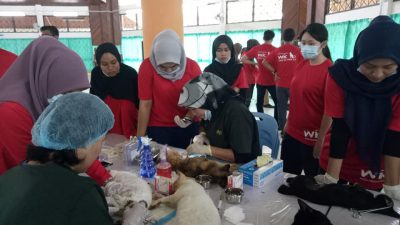 Did you know that cats can get pregnant when they are as young as four months of age? Their pregnancy lasts for about two months, with an average of four kittens born at a time. A cat can have up to twelve kittens in a span of twelve months! Many unprepared cat owners overestimate their ability to care for kittens and become overwhelmed fast. As a result, they abandon cats on the streets. These cats then find it difficult to fend for themselves and end up becoming more susceptible to diseases and injury. The problems just keep adding up.
Wira Kasseh is an NGO dedicated to controlling the population of feral and stray cats and dogs through subsidised spay and neuter programmes. They used to run a shelter for cats, saving the cats from Pandan City, but realised that it did not solve the cat population problem. The NGO was founded in 2012 by veterinarian Dr. Juliana and school teacher Puan Suriani after they rescued a cat off the streets. The cat's head and brain were covered in maggots when they found him, and he passed on one month after a painful and courageous battle. The cat, whom they named Wira (Malay for hero), became the inspiration to ensure that no animal should be left on the streets.
Trap, Neuter, Release, and Manage (TNRM) is a programme where volunteers – who are mostly concerned animal lovers – trap unneutered cats, send them to be neutered at partnered clinics, care for them before release, and then keep an eye on them after letting them back on the streets. Cats that have been treated are usually marked by a tiny snip on their ear, a universal marking of a feral cat that has been sterilised and cared for.
Kempen Kesedaran Program Pengebirian, or Sterilisation Awareness Campaign Programme, another initiative by Wira Kasseh, has become a success not only in Johor but also in Selangor. There, they rent a hall and spend one whole day spaying and neutering cats at a discounted rate of RM50 for males and RM80 for female cats. Throughout the day, five vets neuter an average of 150 cats.
Imagine a world where everyone cared and loved animals, that's what Wira Kasseh aims for.